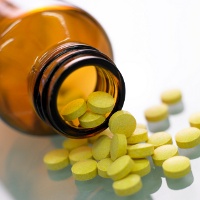 Most of the cases are caused by drug poisoning due to wrong drug storage.
Storing medicine properly can ensure the safety of the use of these drugs.


Storage of drugs the right way to help maintain the condition of the drug remains in good condition or not broken.
Moreover, it also can avoid the mistakes the use of drugs by the wrong people, such as children.


As quoted from MedicineNet, Tuesday (10/10/2011), Cleveland Clinic recommends ways to correct storage of drugs, namely:


1.
Follow storage instructions on drug labels

Usually on the drug label will be written instructions, including drug store in a covered container at room temperature, away from heat, moisture, and direct light, and keep from freezing.


2.
Avoid leaving medications in the bathroom, car, or in a place that

humid and too hot.


3.
Cool the drug only if the drug label was written so

Form of certain drugs, such as suppositories must be stored in a refrigerator.


4.
Make sure all medications are kept safely out of reach of children

Drug store out of reach of children is very important because it can avoid the mistakes of certain drug use by children, thereby also avoiding cases of drug poisoning in children.
Cases of drug poisoning in children, include:

a.
Misuse of drugs used in young adults.

b.
The case of swallowed drug in children because children want to try it.

c.
The drug is indicated for children, but because it is within the reach of children so that dosing errors occur.


5.
If using a pill organizer, make sure that all drugs can be easily identified

Pill organizer, or a pill container, or special pill boxes used to store drugs in accordance with the scheduled dose for a person.
Pill organizer is usually made with compartments for each day of the week.
Pill organizer is a place to store medications to prevent or reduce drug misuse by patients.
Storing drugs in a pill organizer must be made with care, to prevent drug misuse.


6.
Keep medications in original containers with lids tightly closed

Somehow the original container of drugs derived from plants has been designed so that it can store medication properly.


7.
Dispose of outdated medicine or medicine no longer needed

It is necessary to check the medicine cabinet periodically, to keep track of drugs that are already expired.
The remaining drugs obtained by prescription from previous treatment if it is no longer needed, should also be discarded.
Disposal of drugs that have expired and drugs that are no longer needed to prevent drug toxicity.