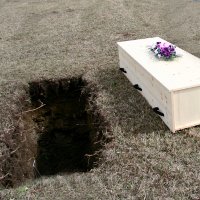 The cost of funerals in the UK is quite high at 1500-5000 pounds or USD 21-70 million.
Because of the difficulty of finding people willing to donate their organs, an independent body proposed that organ donors get a free funeral expenses of the British government.


Offer a free funeral expenses was contained in a proposal in the UK which aims to encourage millions of people to register as organ donors.


The lack of organ transplantation has led to 8,000 people in the UK on the waiting list surgery to save his life.
It takes an average of 3 years to obtain a suitable donor, and three people on the list die each day.


Black people and Asian people often wait three times longer to get an organ transplant because of a lack of suitable donors.
With the lure of a free funeral costs can be an incentive for more people to donate their organs.


Nuffield Council on Bioethics has submitted a report to investigate ways of increasing the supply of organs that take 18 months.
Nuffield Council on Bioethics is an independent charity in the UK who examine and report on ethical issues related to new advances in biology and medicine.


Nonetheless, the institute also highlights the importance of maintaining the principle of generosity as important values ​​that must be realized together, put aside the legal foundation that provides payments to donors.
Because there are fears that the family could ask for their sick relatives to register as donors so as to save on funeral expenses.


The report also suggests the need for further research to find out whether the way it really can make people more motivated to donate their organs.


Currently Organ Donor Register is to record 18 million people (about 30 percent of the total UK population) to enroll in this program.
National Health Service (NHS) would like to increase this number to 25 million by 2013.
National Health Service is a public health agencies in the UK which provide free health care to all Britons.


Keith Rigg, transplant surgeon at Nottingham University Hospital and one of the authors of the report saying that he did not think much about direct payments for people willing to donate their organs.
He believes that the payment of funeral expenses by the government is ethically acceptable because it will only benefit the family.


He suggested that the NHS is running a pilot project payments to anyone who signed up to donate their organs.
But Roger Goss, deputy director of Patient Concern another opinion.


"We fear that offer funeral expenses in exchange for an organ can cause people menyandarakan burden on the families of sick relatives to donate organs as it gets in return thousands of pounds," said Goss seeprti quoted from dailymail, Saturday (10/15/2011).


The report also recommends a greater number of payments for people who want to donate eggs or sperm for fertility treatment and research.
Those who help others to have children should receive the full costs, including lost revenue, not just the money of £ 250 (USD 3.5 million).


Women who donate eggs for research should also get rewarded the most, as respect for the patient for testing drugs.


Chairman of the Nuffield Council on Bioethics, Professor Dame Marilyn Strathern said, "People who are willing to donate their organs for the treatment of others should not be allowed to go home without spending money".